The asset management industry has been challenged by a lack of diversity on investment teams. And that's not good for anyone: investment firms, women, and most importantly, investors. Founder and Chair of Girls Who Invest , Seema Hingorani, will share her personal perspectives on creating opportunity and facilitating change in the Investment Management Industry.
Girls Who Invest ("GWI") is a non-profit organization founded in 2015 dedicated to increasing the number of women in portfolio management and executive leadership in the asset management industry. Their mission is to have 30% of the world's investable capital managed by women by 2030.
Girls Who Invest is committed to changing this imbalance. The strategy is simple and practical. Investment firms say they do not see enough resumes from women, so we are creating a pipeline of talented and motivated young women who are prepared to succeed in the industry through an intensive educational program, a meaningful paid internship, and a robust on-going community.
Featured Speaker: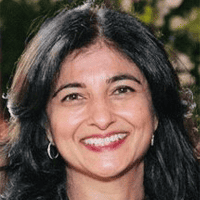 Seema R. Hingorani is a Managing Director and Strategic Client and Talent Engagement Lead at Morgan Stanley Investment Management (MSIM). She is also a member of the Investment Management Operating Committee, Chair of the Senior Advisory Board of Morgan Stanley Infrastructure Partners, a Senior Sponsor of Investment Management's Diversity Council and a member of Morgan Stanley's Diversity and Inclusion Senior Leaders Advisory Council. As part of the MSIM senior leadership team, Seema is focused on strategic client relationships, investment talent development and diversity initiatives across the platform. Seema joined Morgan Stanley in 2019 and has 28 years of investment experience.
Seema is also the Founder and Chair of Girls Who Invest, a non-profit organization dedicated to increasing the number of women in portfolio management and executive leadership in the asset management industry. Previously, Seema was the Founder and Chief Investment Officer of SevenStep Capital, an opportunistic investment platform focused on seeding women portfolio managers. Seema served until June 30, 2014 as Chief Investment Officer for the New York City Retirement Systems which had assets of $160 billion. Previous to this appointment, Seema was Interim Chief Investment Officer and before that Head of Public Equities & Hedge Funds for the pension funds. Under her leadership, the pension fund was named Hedge Fund Manager of the Year – Large Public Pension Plans by Institutional Investor. Prior to Seema's four years of public sector experience, she served as Global Director of Fundamental Research at Pyramis Global Advisors; a Partner, Portfolio Manager and Senior Equity Analyst with hedge fund Andor Capital Management; a Partner and Senior Equity Analyst at hedge fund Pequot Capital Management; Co-founder of hedge fund Mirador Capital Management; and an Equity Analyst with T. Rowe Price.
Seema has worked with several organizations focused on issues concerning women and girls and is a prolific speaker on the topic of a more robust inclusion of women in the corporate sector. She was awarded in 2021 the insignia of Chevalier of the National Order of the Legion of Honor by France. She was also recognized in 2021 as one of 100 most influential women in U.S. finance by Barron's, honored as the 2019 Bloomberg 50 "Ones To Watch", the 2016 Woman with Impact by the Connecticut Women's Business Development Council, and Wall Street Women Entrepreneur of the Year in 2015 by Traders magazine. Seema served as a member of the National Finance Committee of Secretary Clinton's 2016 Presidential Campaign. She is a Board Director of the non-profit organization Women's World Banking, a Senior Advisor for The Wharton School Stevens Center for Innovation in Finance Cypher Accelerator, and an active member of The Economic Club of New York. Seema earned a B.A. in psychology/philosophy from Yale College and an MBA in finance from The Wharton School at the University of Pennsylvania.
*This event is only open to members of the Roundtable with active memberships and first-time guests. If you are not yet a member of the Roundtable and are interested in attending as a first-time guest, please send an email with your name, email address and company name to info@ny-alt.org.